Johnsons ProNitro pays off for Bolton Wanderers FC.
Bolton Wanderers academy and training facility, at the Lostock Training Grounds, are the latest to discover the benefits of the new ProNitro coated seed from DLF/Johnsons Seeds. Chris Simm and his team of 8 groundstaff have been trialling the Johnsons J Nitro Premier Pitch mixture at the 40 acre site - the main aim being to reduce the renovation budget at the club.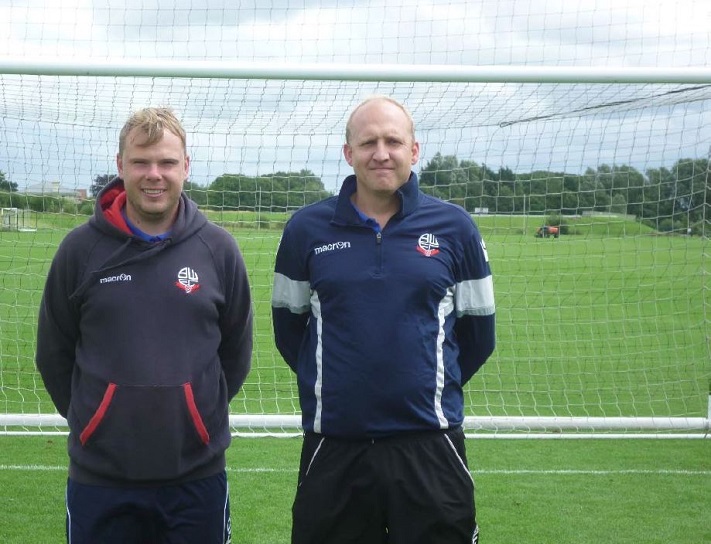 "We'd read about ProNitro and the benefits of the coated seed. After talking to DLF's John Hughes, and our local Pitchworks rep, we decided to give it a shot," explained Chris. A normal renovation regime would see him applying a pre-seed fertiliser then overseeding with the selected mixture. "This new ProNitro option was attractive to us as it does the two jobs at the same time, freeing up labour and machinery for other tasks. During renovations time is of the essence as we only get a short window before pre-season starts - you want to get the seed in the ground and growing as quickly as possible."
The J Nitro Premier Pitch mixture was applied at the same rate as regular un-coated seed, used on adjacent pitches, to provide a direct comparison of results. "Seeding with the ProNitro seed was smooth and the seed established well, thickened quickly and developed a good root system. The main benefit was the significant cost saving both in terms of the product and the labour saved. It gives us the option of reducing costs which will be considered when it comes to our next budget meeting."
ProNitro® is considered the 'next generation' of seed coat technology aimed at improving nutrient utilisation during the early stages of plant growth – particularly important when overseeding into a competitive sward. Containing 10% Nitrogen, both fast acting and slow release, Nitrogen uptake with ProNitro® is up to 4 times more efficient compared to broadcast applied fertilisers. Roots and shoots grow rapidly, delivering up to a 30% increase in root growth, and the seedlings become strong and vigorous with up to 34% more viable plants. The enhanced root growth also improves the availability of soil nutrients and can reduce nutrient loss into the environment through leaching by over 50%.