Why are official turf trials important?
Independent turf trials are crucial for ensuring that new cultivars are adapted to management and growth under local conditions. This ensures the best results.
Independent turf trials in Scandinavia
The turf cultivars are tested on several locations under different mowing regimes (including greens) in the harsh scandinavian climate. Trial results are freely available on www.scanturf.org
UK STRI Trials
Sports Turf Research Institute STRI, make a valid testing of new turf cultivars under Green, Sport and lawn maintenance. The results are published every year in "Turfgrass Seed - The buyers guide to Quality Amenity Turfgrasses" . You can order the guide at www.stri.co.uk
Johnsons - for perfect sports surfaces
Only the higherst performance cultivars are selected for the Johnsons sports seed range following independent testing across europe.
Guaranteed results
Johnsons cultivars have been tested under a wide range of climatic and growth conditions in order to ensure optimal performance under the tough conditions they will be exposed to.
With the World's largest breeding program we give you access to top performing cultivars from the international turfgrass lists. We have breeding stations in the UK, Denmark, Holland, France, Czech Republic, USA and New Zealand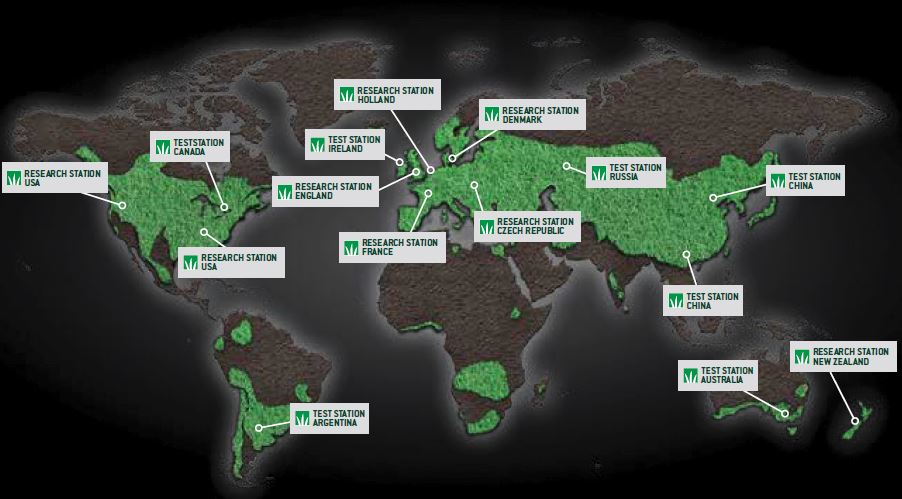 It takes 15 years of research and development for a new variety to make it into a Johnsons Sports Seed bag

Full traceability: the green label on our bags tells where the seed is produced and that it is tested and certified.
Year 1-3
Different grasses are crossed in order to find new and improved varieties. The new variesties are propagated and sown in thousands of test plots.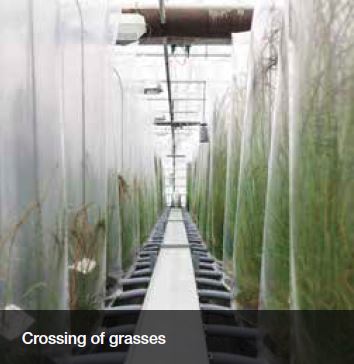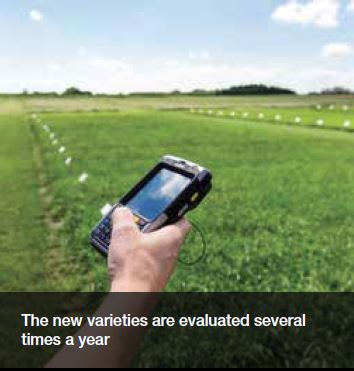 Year 4-8
The new breeding lines are tested. Only the best varieties continue in our breeding program.
Year 9-10
Every year we test new varieties under different climatic conditions to evaluate thier performance. The very best variesties are hosen for further offical trials e.g STRI.
Year 11-14
The chosen variesties are tested and evaluated in trials by official independent authorities. The highest performing varieties are put into production with our experienced seed growers.
Year 14
Official trials are completed. Only the varieties that have passed the official tests appear on the lists of recommended varieties. (e.g. STRI, SERF).
Year 15
Certified seeds are harvested., cleaned and samples are taken for purity and germination in our own laboratories.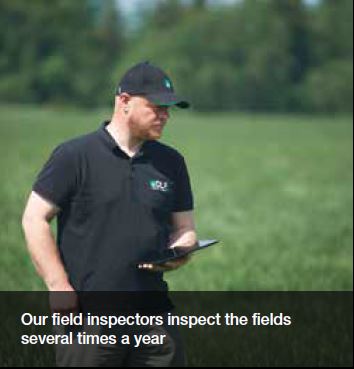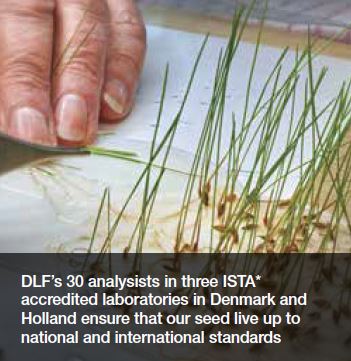 * International Seed Testing Association
Year 15+
After careful selection the varieties are mixed and packed into our famous black bags at our dedicated amenity warehouse.