DLF Select - purity you can rely on
DLF select is a quality program to bring professional amenity-turf managers reliable access to the highest purity seed stocks they demand.
DLF Select, when seed purity matters

As a professional amenity-turf manager it is important for you to get high-quality, high-purity seeds on a consistent basis. However environmental changes and tougher weed-control regulations make high standards of purity ever harder to achieve. DLF Select is our response to this market need. DLF Select brings stability to the high-purity seed market. As a professional amenity-turf manager you can rely on DLF Select to deliver the high purity seed stocks

The purest seed on the market
We have defined standard quality grades to give you the purest seed on the market.
DLF Select 00 offers you the highest purity and quality based on a standard seed sample of 2500 seeds. The 00 grade offers 0,0% contamination of other seeds, which gives you a 100% clean seed sample.
In our superior quality, S-grade we have increased the standard sample size by ten-fold for our customers who demand the extraordinary.
Our professional grade A offers a significant improvement in quality oer standard EU-certified seed.It is free of coarse grasses and has a low level of Poa species.

Read more about ISTA accredited labs and procedures here.

End-to-end quality control - our investment in your future
To develop DLF Select we have evaluated every aspect of our processes to produce more high-performance, high-purity seed.

We have selected our best varieties, placed them for production with the most skilled growers and the cleanest fields. Specialist DLF employees work to clean the seed on dedicated cleaning lines to ensure optimal purity.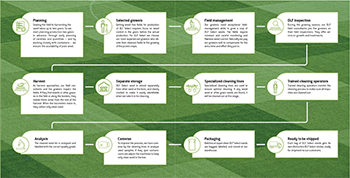 See the process in detail here
This is why we call this 'DLF Select'. Our integrated approach ensures that you can rely on DLF Select to deliver the highest purity seed, season after season, in the quantities you need.

The process begins at the R&D stage. We choose only high-performance cultivars for the DLF Select programme. And then only the best varieties go forward for production.
Reliability and precision you can depend on
Pure seed grows into pure, weed-free turf that provides the best turf managers with absolute precision – a perfect bounce, a rod-straight roll of the ball, or an exquisite landscape project. To achieve this level of turf perfection you need seed of exceptional purity; you need DLF Select.

You also need to know that you can obtain this seed, year after year, season after season. That's the promise of DLF Select.
Look for the label
DLF Select seed bears the distinctive logo. It's your guarantee of absolute purity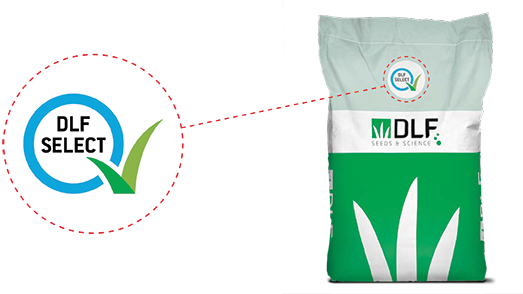 Let's work together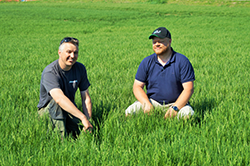 To optimize our rolling two year production cycle we need to work in partnership with you. The more information we have about your future seed requirements the better we can plan to fulfill them. We want to work closely with you to ensure you never miss out on the high purity seed your business demands.