4turf - Tetraploid perennial ryegrass with enhanced strenght
4turf is a new generation of tetraploid perennial ryegrass varieties, developed to be quick establishing, strong, deep-rooting and tolerant to stress. 4turf is better able to withstand a range of stressful conditions, such as drought, cold, disease and wear.
4turf benefits:
Rapid establishment
Increased drought tolerance and recovery
Superior cold performance
Excellent disease resistance
Good wear tolerance
Darker green colour
Good performance in low input situations
Long lasting
Excellent mixture partner
Stronger establishment
4turf larger seeds contain more energy reserves for a stronger faster establishment and healthy plant development. When the weather cools down 4turf doesn't. 4turf continues to germinate. 4turf has a better germination at 4oC compared to diploid. This is also a big advantage when overseeding.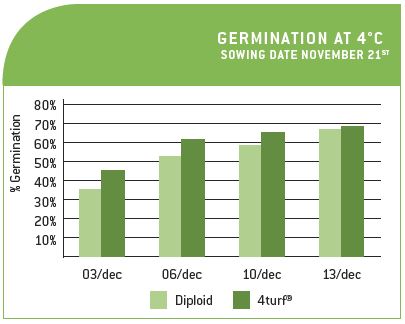 Drought tolerant
4turf natural water reserves in the plant ensures tha it says green longer. 4turf's superior rooting structure helps it look for water and reduces the need for additional irrigation of established turf.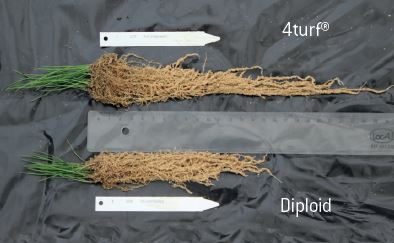 Exceptional disease resistance and winter performance
4turf gives you green ground cover during the most difficult period of the year because of improved energy reserves. During autumn and winter seasons 4turf shows improved tolerance to diseases.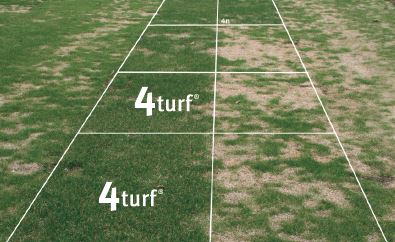 Excellent colour
4turf has a deeper glossier dark green colour than traditional varieties. Its improved stress tolerance throughout the year and its increased resistance to weed invasion means that 4turf will be greener quicker and for longer than traditional varieties of perennial ryegrass.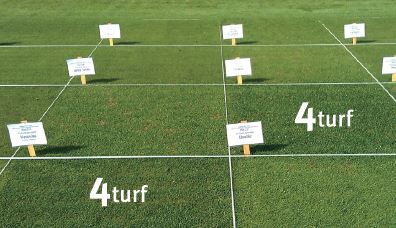 All year round stress tolerance
Cold tolerance
When we say that 4turf has exceptional winter performance this is no idle boast. Trials from Finland show Fabian has a superior winter hardiness - and 4turf' is also number one in general turf quality within the Scandinavian independent and official Scanturf trails.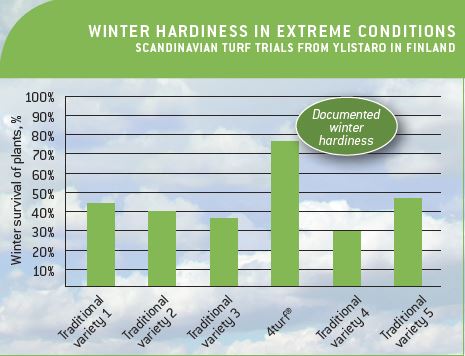 Drought tolerance
Results from our drought trials in France in the Loire Valley show how much more the 4turf varieties are tolerant to drought than traditional varieties. As the graph shows 4turf varieties have index 133 compared to traditional varieties with index 100. Not only are 4turf varieties more tolerant they also recover quicker from drought when the rain come.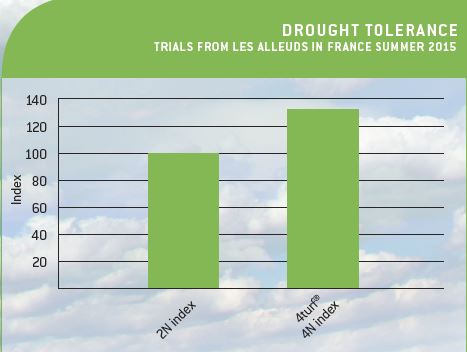 4turf - for all round performance
Your skills as a groundsman, greenkeeper or landscaper are fundamental to the success of your stadium, golf course, sports ground or public park. For the most professional results, you need the best grass seed you can get. When choosing 4turf your turf establishes faster and gives you thicker, greener cover all through the year. Itsmore tolerant to drought, diseases and cold. With 4turf you can perform wonders.
4urf - for the future
Tetraploids were first seen in a lawn grass situation over 25 years ago when the standard of turf quality in general was not as high. What is new is that this new generation of varieties I have developed are able to compete in performance and appearance with the best modern standard varieties. It has taken me over 20 years to achieve this. Even that first variety many years ago exhibited improved stress tolerance and this is what has motivated me as a breeder to continue improving and refining 4turf. 4turf will open new horizons in Perennial ryegrass breeding.

Christophe Galbrun - Seed Breeder