Grounds Professionals gain an 'insight into The Emirates
In conjunction with DLF Seeds, over 40 Grounds Professionals from schools, colleges and sports clubs across the country were recently invited to a behind-the-scenes tour of Arsenal FC's Emirates Stadium. Visitors gained an insight into the grounds programme that keeps the surfaces performing at elite levels, and how new technologies are playing an ever-increasing role in monitoring and maintaining these professional standards.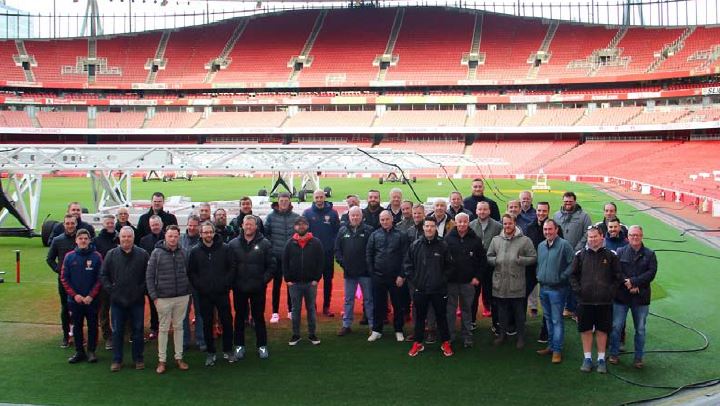 Head Groundsman Alan Russell, assisted by Deputy Lee Blythe and Assistant Jack Bayford, led the day which included a pitch walk, a tour of the machinery workshop, as well as a look around some of the offpitch highlights including the Home Dressing Room and Managers Office. The Arsenal Grounds Team took questions throughout the day, with DLF Technical Manager David Rhodes and Regional Support Manager Craig Spooner on hand to provide advice on the topics of turf and seed.
Daniel Negus, Head Groundsman at Devonshire Park Tennis Club, was one of those in attendance. He said, "The day was a fantastic opportunity to see how one of the leading Premier League stadiums operates both on, and off, the pitch. It was hugely beneficial to hear the first-hand experiences of Alan and his team, meaning we all came away with an understanding of the knowledge and practices that they employ."
Craig added, "The dedication, professionalism and knowledge of the Emirates grounds team is a real credit to the Club. A big thank you must go to Paul Ashcroft, Grounds Manager at the Emirates Stadium and Hale End Academy for hosting us and making it such a successful and informative day for all of those that attended."