Groundsman of the year for Peter Ashworth at Preston North End
The Football League Groundsman of the Year (League 1), Peter Ashworth, is Head Groundsman at Preston North End Football Club. Peter attributes his success to the team effort involved to get the desired playing surface. He believes it is not just his role as Head Groundsman, but also the choice of the best grass seed; the correct feeding regime and most of all, the people at the ground to keep everything in good condition.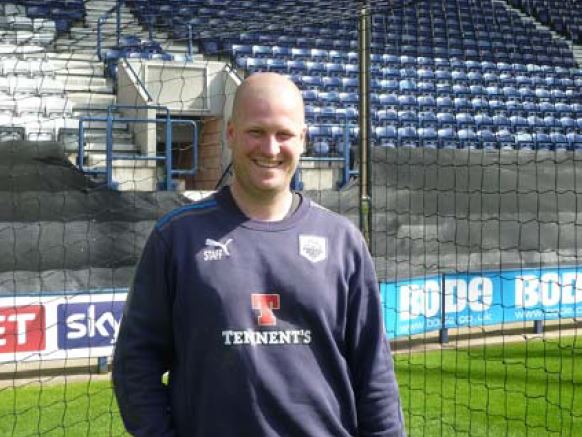 To achieve this accolade the Preston pitch was given a score by the visiting Manager and Referee at each home match. Each had to rate the pitch on a scale of 1 to 5 with the top three pitches at the end of the season being visited by Dr Stephen Baker of the STRI to judge the winner. Halfway through the season Preston was averaging 4.75 out of 5 and finished up at 4.2 out of 5 - the average for the league was 3.47.
Peter, who attended Myerscough College where he did an HND in Turf Science, is supported by Dean Ash at the main ground with Sam Newton and Aaron Lewis at the training grounds – all join forces when needed. Although Peter has been in the role for 9 years (he had prior stints with Blackburn Rovers and Oldham Athletic) he still calls on the retired former Head Groundsman, Peter McCallion's, incredible knowledge a few days a week!
Peter has used Johnsons Sports Seed mixtures for pretty much his full time at Preston. He purchases the seed from Pitchworks, and Dave Blanchard and the local area DLF specialist John Hughes call in several times a year to keep tabs on what's happening with the pitch. "I've found," says Peter, "that J Premier Pitch is a nice green colour, looks healthy, has good disease resistance, has great recovery and has been hardwearing even throughout the horrible winter weather we've just had. Our maintenance regimes obviously help and we've only had to spray for disease once this season, which is very good for a stadium."
The result was a pitch that the players this past season loved. To keep it that way they generally do a renovation every year at the ground and training grounds. This year they will fraise mow the top 10mm-12mm to get a nice clean surface and then they will put on 200ton of fresh fibre root zone. One cultivated and levelled they will then reseed with Johnsons J Premier Pitch. It is expected to establish within a week and Peterhopes to be on within 14 days for a first cut and a full 7 weeks before they start to play on it.