J Premier Pitch delivers vitality to surfaces at AFC Bournemouth
If it ain't broken, then why fix it?! That's certainly the motto of Ian Lucas, Head of Grounds at AFC Bournemouth, when it comes to the choice of grass seed across both the Vitality Stadium and two pitches at King's Park training ground. When Ian joined the club 18 months ago, Johnsons J Premier Pitch mixture was the seed of choice across the two first-team facilities, and having delivered reliable coverage, colour and wear tolerance, it looks to be a decision that's set to stay.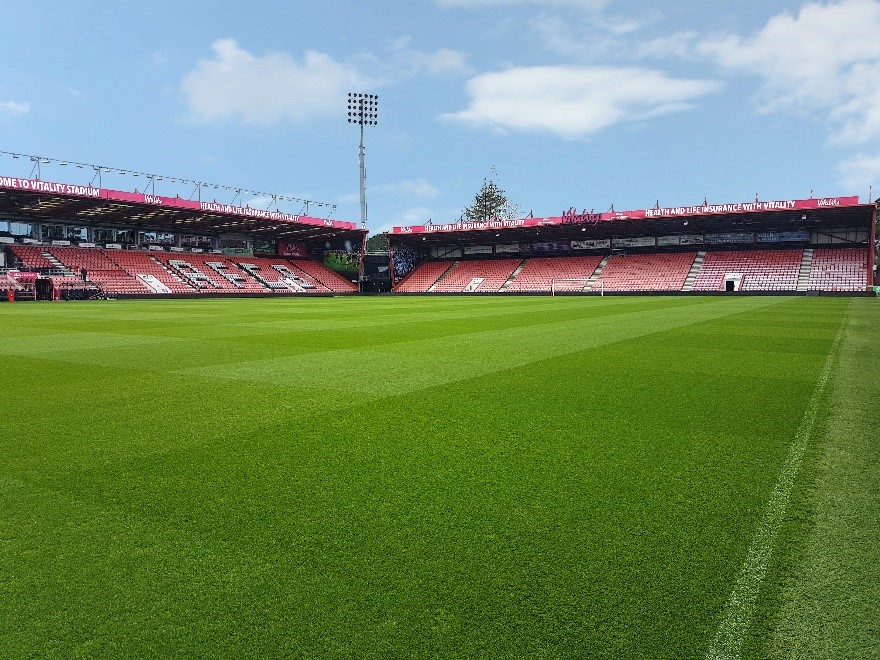 Supported by a grounds team of seven, Ian is now into his third season of using J Premier Pitch. "I had obviously heard of the mixture but had not used it previously so when I inherited the seeding programme of my predecessor, it was my first real experience of the Johnsons Sports Seed mixture. It hasn't disappointed!" Ian oversows with J Premier Pitch at a rate of 45g/m2 during renovations in April and at a lower rate of 15g/m2 in October, depending on the weather conditions and how the pitch is wearing.
Through the season, they adopt a 'pre-germinated seed' strategy for ongoing recovery and repair of high wear areas. "It's a well-known-tactic but not one that seems to be frequently employed in the industry" he explains. "We fill a bucket ¾ full of Premier Pitch, then top it up with water and place it in a heated container for three to four days until it pops, before applying it to areas such as goal mouths and corner spots. This method shaves up to two weeks off germination, giving us a real advantage especially during the colder months."
"We've achieved good wear tolerance, disease resistance and the germination we need throughout the year. The colour is one of the main things for us, and the J Premier Pitch is unbeatable for this, backed up by the respective cultivar ratings in the STRI listings." Ian will discuss requirements with his local DLF technical support advisor Ian Barnett, who keeps him up to date on new developments and provides guidance on seed selection. "He'll always pop in at key times, such as renovations, and advise us on current supply to ensure we get delivery in time - vital to keeping us on track."