J Premier Pitch finds home in Hungary
because of the Hungarian climate, pitches there are normally turfed with grass imported from Europe. The Ferencváros Stadium, home to Ferencvárosi TC – one of Hungary's most popular and successful sides – is no exception with a new pitch sown with Johnsons Sports Seed J Premier Pitch.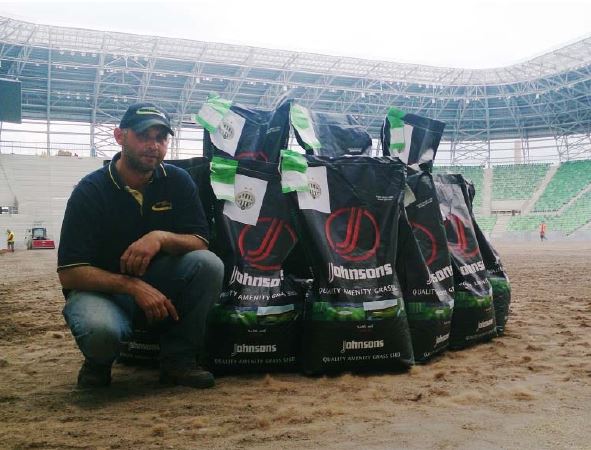 Premier Pitches KFT have been heavily involved in the reconstruction. The family-run business, owned by Istvan Bekefi, not only conducts pitch and stadium renovations but has now been appointed as the new dealer for JohnsonsSports Seed in Hungary.
The Ferencváros Stadium is the first fibresand and seeded pitch in Hungary. Istvan used Johnsons iSeed J Premier Pitch and is hoping that the top quality result achieved with the surface will encourage other stadia to consider similar projects and products. The stadium is expected to be completed in August 2014. "I have used other seed in the past," said Istvan, "but can comfortably say that Johnsons is the best seed I have ever worked with. I and the whole team are very impressed with the results achieved using J Premier Pitch."

Istvan first travelled to England 6 years ago where he met with industry professionals who taught him about English groundcare technology and products. He continues to come every year for educational purposes. Istvan first discovered Johnsons Sports Seed at the start of his career as a turf grass grower, he is delighted to once again be working with Johnsons as a national dealer for the products.