Johnsons Premier mixtures give Liberty Stadium the edge with renovation
Liberty Stadium Swansea, the premier sports venue in South West Wales, is home to Swansea City Football Club and the Ospreys regional rugby team. Although being sceptical, Head Groundsman Dan Kirton, made the switch to Johnsons Sports Seed in 2015 and now admits that it would take "something seriously special" to make them use anything else! Between Johnsons Premier Pitch & J 4Turf mixtures, the team have achieved fantastic year-round results year on year.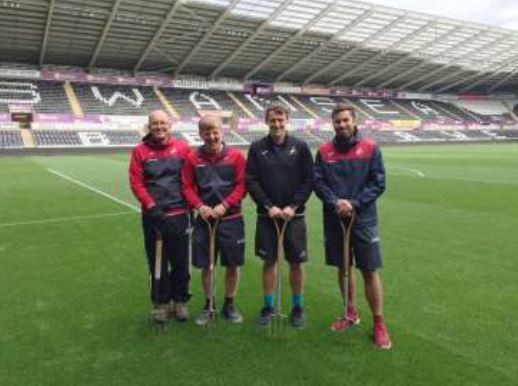 We had heard and read so many good things about the range that for our renovations in 2015 we gave it a go" explains Dan. As a multi-sport venue, Dan, and his team of three, face a variety of challenges when it comes to managing the pitch. "We have on average 30 football and 20 rugby games a season, with sometimes just a single day turnaround between matches. Renovation can also be hectic – the concert schedule will determine how long we have to get the pitch match fit. To stand any chance of good results we need mixtures that germinate quickly."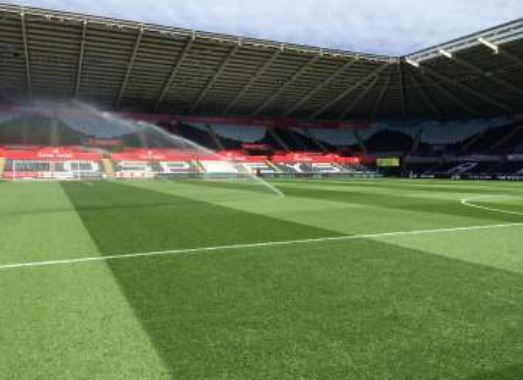 Because of their unique requirements, DLF's Ian Barnett suggested using a combination of Johnsons J Premier Pitch during summer, and for the colder months, Johnsons J 4Turf. "If we have a rugby game on the Friday night, we'll clean the pitch up and put J Premier Pitch down and by the following week we're getting germination – you can't ask for better than that!". J Premier Pitch is the UK's No.1 sports turf renovation mixture, containing Europe's highest rated cultivars to deliver a sward with exceptional wear tolerance, density and rapid recovery under heavy wear. J 4Turf tetraploid rye ensures rapid establishment even under low soil temperatures making it ideal for autumn and winter overseeding.
"This year we have a concert on the 7th July giving us just three weeks for renovation before the first game of the new season. If we have any chance of getting the seed through in time we'll definitely be continuing with our Johnsons Seed programme; it's easily the best seed we've ever used and, backed up with support and advice from Ian, means we haven't looked back since."