New cultivars and formulations for 2021
DLF Seeds undeniably set the bar when it comes to seed research and development, giving turf professionals the mixtures they need and trust to achieve first-class results. As they launch the Johnsons Sports Seeds mixture guide for 2021, the introduction of new cultivars and 11 updated formulations promise further improvements to disease resistance, wear tolerance and visual performance across a number of key mixtures in their golf and sports portfolio.
With sustainability an increasingly key consideration for turf managers, many are discovering the benefits associated with DLF's 4turf® Tetraploid Ryegrass technology. New in the 4turf® stable for 2021 is Tetragame, a cultivar which significantly improves disease resistance and sward recovery, as well as demonstrating strong germination and establishment even at temperatures as low as 4oc. Tetragame features in the new formulation of J Outfield, together with updated J 4Turf and J 4Turf 100 mixtures to deliver the strength and durability demanded for winter sport and equestrian use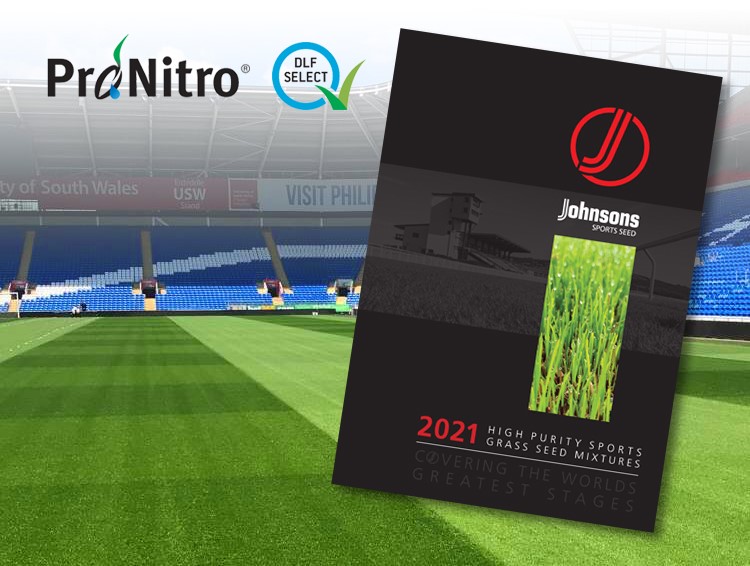 With a trusted track record for high performance, Johnsons J Premier Wicket and J Premier Pitch mixtures will continue to set the standard for cricket and football respectively – with ProNitro® coated options available for even faster establishment and reduced input costs. DLF's ProNitro® 5G seed coating contains a targeted combination of controlled release nitrogen, together with hydroactive water management technology, which leads to stronger germination and improved nutrient utilisation during the early stages of plant growth.
Also new for 2021 is Absolom. This highly-rated Slender Creeping Red Fescue cultivar delivers exceptional disease resistance and tolerance for close mown management making it a great addition toa number of Johnsons golf mixtures including J Fescue, J Premier Fairway and J Green. In addition, all mixtures across the Johnsons putting surface range are now 'DLF Select' purity as standard, meaning Course Managers can be assured that only seed from the purest crops and meeting the stringent cleanliness grade makes it into the bag.