Plastic Pitch Blamed For Injury
It's feared that Jamie Murphy will face a lengthy spell on the sidelines after twisting his knee in Rangers' 3-1 Betfred Cup victory at Kilmarnock.
This article was written by an external source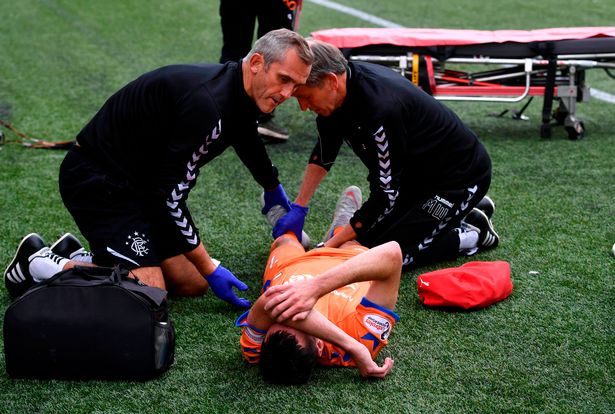 James Tavernier blamed Kilmarnock's artificial surface for Jamie Murphy's injury hell – while Rangers boss Steven Gerrard called for plastic pitches to be outlawed in the Premiership.

Skipper Tavernier was furious as the surface claimed another teammate after former Ger Martyn Waghorn was crocked on the Ayrshire astroturf two seasons ago.
Tavernier said: "I guarantee you that Murphy wouldn't have the injury if it had been a grass pitch. He planted his foot, got a wee nudge and then just felt something go.
"If that's on grass that's not going to happen. That is twice now I have been to this stadium when a player has suffered a bad injury.
"First it was Waggy and now it is Murphy. These astroturf pitches are always a hazard and are always going to cause injuries to any professional."
Gers boss Gerrard was reluctant to put the boot in to Killie – but he insisted plastic pitches have no place at the top level of the game.
He said: "My opinion is elite football and we're dealing with elite footballers, who earn an awful lot of money, and I think for every club worldwide it's safer to have a grass pitch.
"Other people might have a different opinion to that but I think if you ask any manager worldwide they'd all prefer grass and I do.
"It's difficult for me to comment, we all know that plastic pitches they are not as safe as grass, that's fact, that's simple.
"But I'm not here to disrespect Kilmarnock and their playing facilities. I know that it's a big help to Kilmarnock having a plastic pitch, it helps support the running of their football club.
"But my opinion is elite football shouldn't have any plastic pitches."
Gerrard revealed Murphy was gutted at the crock agony that has left his season in the balance and the Gers boss admitted the pitch is an issue after his club suffered a serious injury on the surface for a second time.
He said: "I think it will be one of those things that will be up for debate.
"We'll have to wait and see. I think if you ask Jamie right now he'll say it was a pitch incident.
"I don't think it's the first time Rangers have had that type of injury here, I think Martyn Waghorn suffered a couple of years back.
"I don't want to dive in too quick, we'll wait and see what the examinations say but we're all fearing the worst.
"Jamie's sad, he's upset, I think he's fearing the worst. We're devastated. That's the only downer for us, we're going away on the back of a fantastic victory at a difficult place but it's come at a cost because Jamie looks like he'll be missing for quite a while."
Gerrard admitted the Murphy blow put a dampner on his side's impressive win as in-demand Alfredo Morelos struck a hat trick – and had another strike wrongly ruled out despite crossing the line.
Click here to read the original article