Proven Brown Patch tolerance of DLF's 4turf® forms basis of brand new mixture for 2022
In response to the increase in reported instances of Brown Patch in the UK football industry, DLF have undertaken a screening programme for the last two years to analyse the tolerance of different varieties.
The results of the trial highlighted the strong tolerance of certain DLF diploid varieties together with 4turf®, which now forms the basis of a J Premier 4Turf – a brand-new Johnsons Sports Seed mixture launching in 2022. Brown patch is a turfgrass foliar disease caused by the fungus Rhizoctonia spp.
All cool-season turf grasses are susceptible to potential attack by the fungus, however it has been found to be most detrimental to bent grass, ryegrasses, annual meadow grass and some fescue species. Attacks are often triggered by hot, humid conditions with an increase in cases identified on plants that are moist and/or have been over-stimulated with nitrogen-based fertilisers.
Samples of a particularly violent European strain of Brown Patch were harvested from a football environment and were studied at the MariboHilleshög Research AB laboratory in Landskrona, Sweden – specialists in Rhizoctonia fungi. More than 30 perennial ryegrass varieties – including nine 4turf® tetraploid perennial ryegrasses – were inoculated, with each variety then scored weekly for plant health. DLF were able to determine with confidence, the higher tolerance of the 4turf® varieties to Brown Patch, which correlates with the results seen in other disease trials.
Using the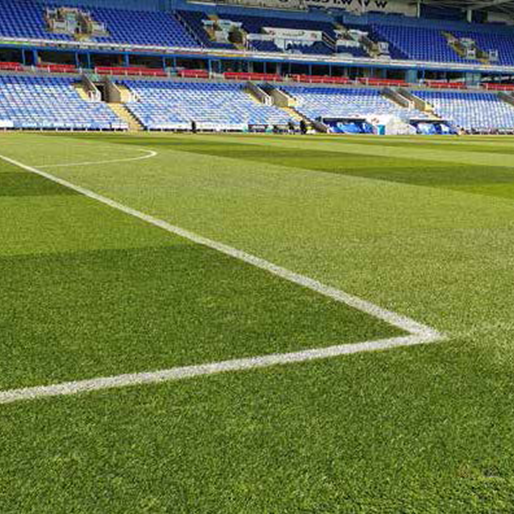 findings from the trials, Johnsons Sports Seed have launched J Premier 4Turf. New for 2022, it is the first mixture of its kind to combine the top-performing perennial ryegrasses from the trial to deliver improved tolerance to Brown Patch, together with the outstanding wear tolerance and visual merit of the original J Premier Pitch mixture. J Premier 4Turf takes full advantage of the most tolerant diploid and tetraploid varieties, with 20% 4turf® – formulated with 10% FABIAN and 10% TETRAGAME.
Following ongoing dialogue with the DLF technical team since early 2019, Head Groundsman at Reading Football Club Chris Last became the first to trial the new J Premier 4Turf mixture. In conjunction with the trial results, the objective was to deliver a mixture with even greater resilience, even faster establishment and improved wear tolerance.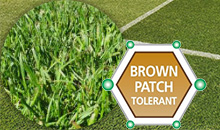 "Having not used 4turf® before, it was interesting to see how well it thrived in our environment!" Chris explains. "We seeded, then sheeted and within just three days the 4turf® was up without the need for excessive levels of input. We were then cutting within a week. As the months progressed, myself and the team at DLF have been avidly observing the sward and how it copes with the issues – particularly disease pressure – at various times of the year. July has always traditionally been a hot-spot for Brown Patch, but last year we saw nothing at all. The additional resilience of the 4turf® has meant that even during high-pressure periods for Fusarium in September and October, any small signs have not turned into full outbreaks. Without question, we have retained far more overall coverage than we have in previous seasons."
More details about the J Premier 4Turf mixture and a number of other new formulations can be found in the Johnsons Sports Seed catalogue