FIFA's "Greenest Football Club" chooses Johnsons Sport Seed
It isn't just Grounds Manager Nigel Harvey who has moved from the Stanley Park Training Ground to the main Stadium pitch of Forest Green Rovers FC – his Johnsons Sports Seed programme has made the switch too! Having used Johnsons mixtures for near-on 15 years, the club's renowned eco and environmentally friendly approach means the combination of J Premier Pitch and J 4Turf will become Nigel's main weapon in the fight against weed ingress and disease.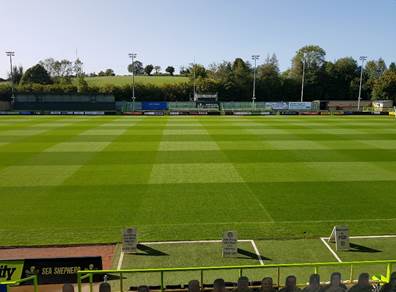 Nigel moved from Forest Green's training facility to take up his new position at The New Lawn Ground in June 2020, which he maintains alongside a recently appointed apprentice. "The maintenance methods are very different between the training ground and the stadium, with fewer conventional tools and techniques at my disposal in the approach we take to issues such as weed and disease control" he explains. After being described by FIFA as 'the greenest football club in the world' and becoming the first UN certified carbon-neutral football club, it's out with chemicals and in with cultural practices - including regular overseeding.
"Johnsons J Premier Pitch has proven itself to deliver fantastic resistance to disease, great appearance and plant strength at our training ground and at many of the country's other leading sports venues, so achieving that is going to be key moving forwards in maintaining surface quality and health at the stadium." One of Nigel's first projects was a major drainage installation programme, the recovery from which saw 20 bags of J Premier Pitch oversown on The New Lawn pitch. "It's first usage at the stadium and it germinated in 6 or 7 days and we conducted the first cut at just over 2 weeks – it was fantastic."
"We will then compliment the J Premier Pitch with Johnsons J 4Turf mixture, with tetraploid perennial rye which works well for winter overseeding. This will help to give us some additional strength in high wear areas such as the goal mouths as well as give us a fighting chance to repair any damage or bare patches through the cooler months." Tetraploid Perennial Ryegrass establishes rapidly under cooler soil temperatures, as low as 4oc. It provides enhanced root development and is proven to deliver exceptional natural genetic disease resistance, reducing the need for costly fungicides by demonstrating exceptional tolerance to a broad range of environmental stresses.
Nigel concludes, "From previous experience, I trust that Johnsons will put us in the best possible position in terms of retaining all-important coverage and plant strength to help resist weed ingress and cope with disease pressure as and when it returns."